How Najat got her self-esteem back
"Even though my husband was always telling me that I'm beautiful, I felt very self-consious at the time," Najat thinks back on those times.
Now, nearing her weight-loss goals, she decided to share her inspiring story.

Having a family had its toll
Najat, a mom, a wife and a full-time emergency and cardiac rehabilitation nurse, was never skinny, but she always felt okay in her body. After two back-to-back pregnancies, however, things started to change.
After her second baby, her hips grew bigger, the fat started to accumulate around her waist. Each year additional weight crept in and eventually, Najat couldn't hide that she was struggling anymore.
My weight gain definitely affected my mood and confidence. I felt sad to be overweight, but I did not want to face the truth. I was avoiding looking at old pictures or seeing myself in the mirror. I thought I could avoid it."
One day she took a leap of faith
Najat remembers that she tried to improve her situation, but struggled with staying stay motivated.
One day she saw an ad for a weight-loss product that had scientific evidence to back up its claims."After I saw the ad, I took time and read all about this product. I checked the clinical studies and I liked that the brand offers a satisfaction guarantee, but what convinced me most was that you use only natural ingredients."
Suddenly, weight loss became much easier
The first benefits she noticed were small. Her digestion improved, she felt less hungry all the time and had more energy. "This made eating healthier and sticking to smaller portions easy," she says and adds: "I didn't even crave sugary drinks anymore."
After the first months, she really started seeing results. Her appetite was constantly low, cravings were gone and thanks to all of the energy, she started to exercise a few times a week.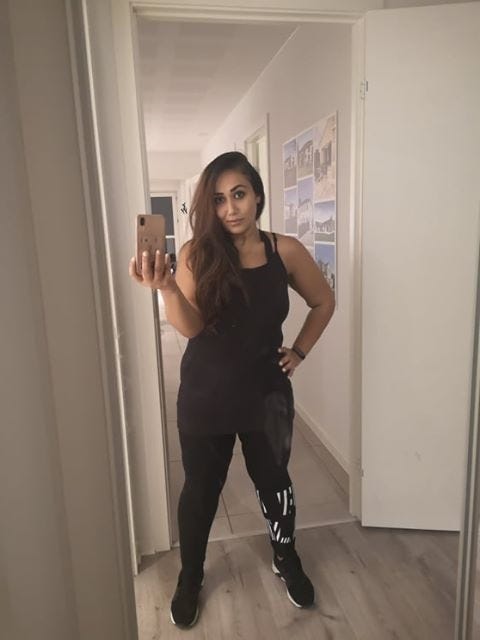 "My clothes started to fit so much better!" she says laughing.
Najat stuck to her new regimen and lost almost all the weight she wanted to lose: "I haven't reached the finish line yet, but I've come very far already. I'll keep going because I'm so happy with the results. I can finally recognise myself in the mirror again."
The product that helped Najat lose her weight
The product Najat used was Adiposlim.** It's a unique fat burner that gives amazing results:
Reduce belly fat by up to 50%*
Reduce waist size by up to 7.5 cm*
Reduce hip size by up to 6 cm*
Boost fat burning by 33%*
It's very powerful in melting abdominal fat and Najat loved that - she never had a tiny waist, even when she was younger. With AdipoSlim,** shaping her body became much easier.
With only natural ingredients (encapsulated in a specially coated capsule, making it even more powerful), Adiposlim burns through fat and decreases appetite.
*Results may vary.
**AdipoSlim Extreme has been renamed to AdipoBurn Extreme. Only the name has changed, the ingredients and the benefits have stayed the same.