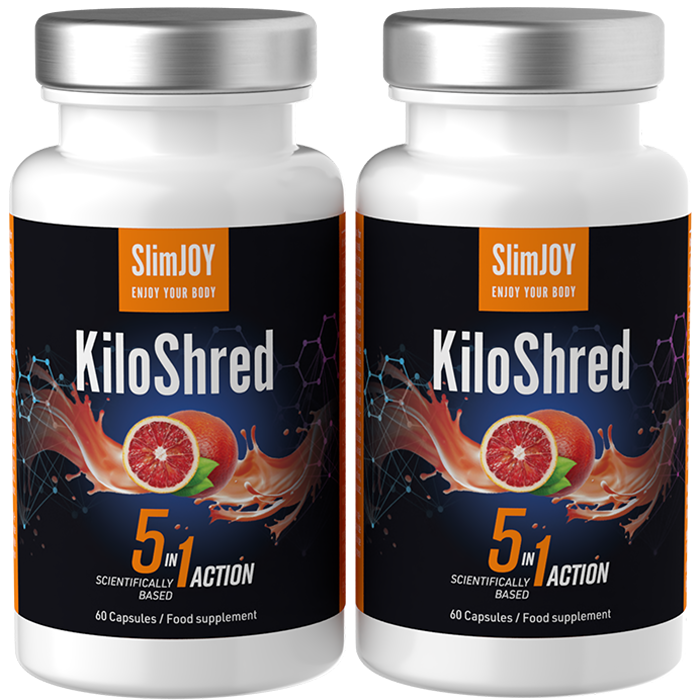 FREE GIFT: 28-DAY WEIGHT-LOSS PLAN
WEIGHT-LOSS GUIDE (e-book)
LOW-CARB MEAL PLAN (e-book)
AT-HOME VIDEO WORKOUTS
Weight-loss capsules
KiloShred Capsules 1+1 FREE
Contents: 1x KiloShred Capsules 1+1 FREE 120 capsules/60 days
Weight-loss capsules
KiloShred Capsules 1+1 FREE
Introducing the most powerful weight-loss capsules! Inspired by the KiloShred drink, these capsules are an all-round slimming solution for fighting off that stubborn fat. And they're backed by science! 
5-in-1 slimming action 
Suppresses appetite to keep your diet on track 
Balances blood sugar for optimal weight loss 
Accelerates fat burning to get rid of the flab 
Boosts metabolism to help you burn more calories during rest 
Flushes out excess water and reduces bloating 
With clinically-backed Morosil® for preventing fat storage 
Over 15 years of expertise in food supplement development and production 
SlimJOY has over 1,300,000 happy customers all over Europe! 
Contents: 1x KiloShred Capsules 1+1 FREE 120 capsules/60 days
-

50

% discount

+ Free delivery
Free delivery
Special price
€29.99
Regular price
€59.98